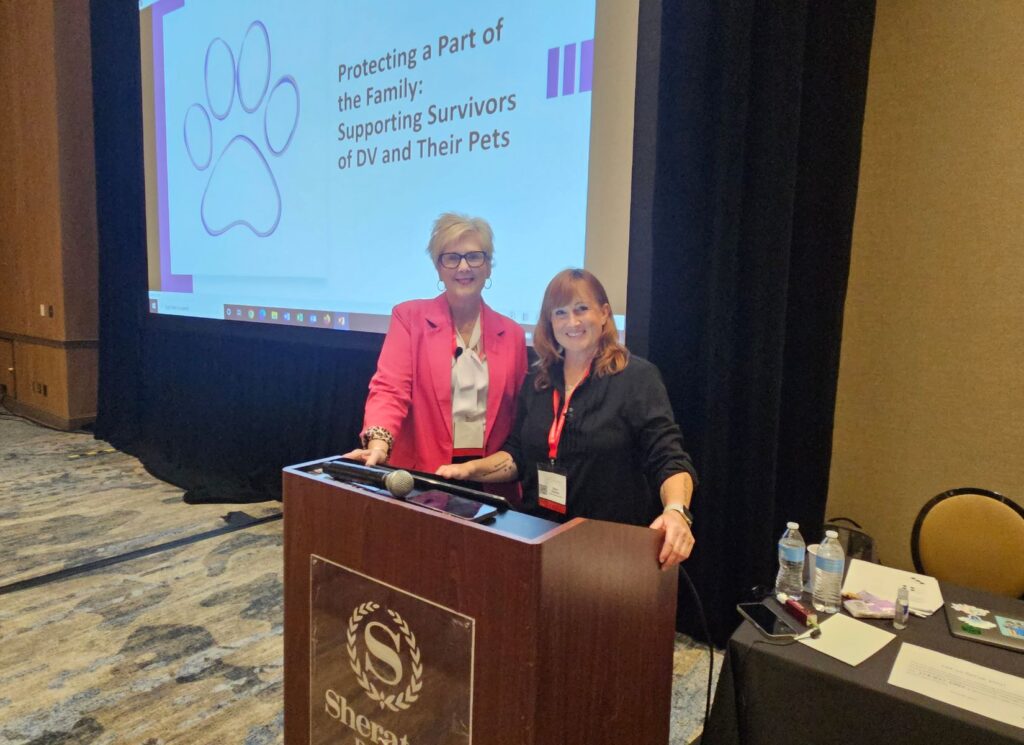 Efforts to protect pets owned by survivors of domestic abuse while keeping them with their human families have earned international recognition for the Domestic Abuse Family Shelter (DAFS).
DAFS Executive Director Becky Stewart just returned from Dallas, Texas, where she was invited to speak during an international conference about the agency's Domestic Violence shelters becoming not only pet friendly, but completely pet inclusive.
Stewart presented a course during the 18th Annual Crimes Against Women Conference in Downtown Dallas with victim advocate and law enforcement attendees from every state and multiple nations in attendance. This year's conference had 3,000 people in attendance. Stewart was joined by Bryna Donnelly, vice president of pet programs for Greater Good Charities. Stewart and Donnelly also participated in a podcast from the event that can be found by clicking here.
"Survivors of domestic violence tell us that pets play a significant role in their ability to survive and heal from trauma," Stewart said. "By allowing victims to bring their pets to shelter, we are assisting them and their children with the healing process."
DAFS, in partnership with Greater Good Charities, RedRover, and Rescue Rebuild, became pet inclusive two years ago. Thanks to a grant and construction work from the charity organizations, DAFS can allow pets to stay in rooms with their families. When the survivor leaves shelter for work or appointments, the pet owners have options to safely leave their pets behind at the shelter with kennels and enclosed play yards.
DAFS is one of the first domestic violence agencies to welcome pets into shelters in Mississippi. The agency took this bold step because right at half of victims with pets will not leave an animal behind with the abuser. Besides keeping the pet safe, it also allows the survivor and their children to have the comfort and companionship of recovering from trauma with their pet by their side.
DAFS serves domestic violence survivors from eleven counties including Jones, Forrest, Lamar, Covington, Greene, Marion, Wayne, Perry, Jasper, Smith, and Jefferson Davis.
All services, including emergency shelter, counseling for adults and children, clothing, case management, food, childcare, and pet care, are available at no charge for clients. For more information, find DAFS on Facebook and Instagram, online at www.dafs.ms, or call 601-915-DAFS (3237).
The Crisis Line is available 24/7 at 1-800-649-1092.